Background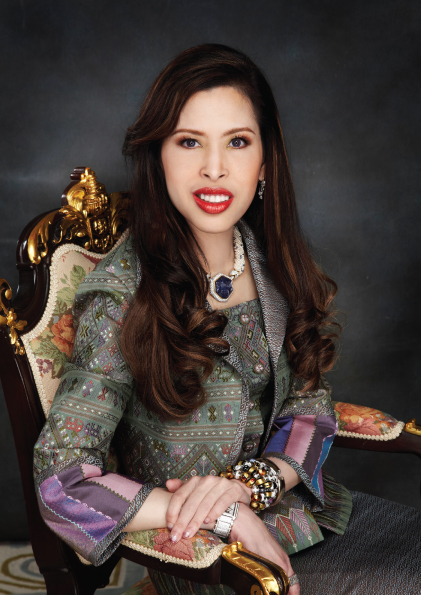 Professor Dr. Her Royal Highness Princess Chulabhorn Mahidol, the President of the Chulabhorn Research Institute, is the youngest daughter of Their Majesties King Bhumibol the Great and Queen Mother Sirikit of Thailand. As a qualified scientist, she has always attached the greatest importance to the role of sciences in social and economic development, and accordingly conceived the idea of establishing a national institute to assist in the development of Thailand.
H.R.H. Princess Chulabhorn Mahidol has been a lecturer in Chemistry Department at Mahidol University since 1985, with special interests in chemistry and synthesis of natural products, as well as in research on Thai medicinal plants. She was the third person in the world who has been awarded the UNESCO's Einstein Medal for her continuous efforts in promoting scientific collaborations in Asia and Pacific. She was also the first Asian who has been invited to join the Royal Society of Chemistry (RSC), England, as an Honorary Fellow. Currently, she is the chairperson of the Working Group on the Chemistry of Natural Products Collaborative Programme between the Japan Society for the Promotion of Science (JSPS) and the National Research Council of Thailand (NRCT).
H.R.H. Princess Chulabhorn Mahidol has received international recognition for her scientific accomplishments. She has also been appointed to various United Nations posts, namely, a special advisor to the United Nations Environment Programme (UNEP), and a member of the Special High-Level Council for the International Decade for Natural Disaster Reduction of the United Nations. In addition, she has not only been a visiting professor at various universities in Germany, Japan and U.S.A., but has also received numerous honorary doctoral degrees from a number of universities in U.S.A., U.K., Japan, and elsewhere. Furthermore, she has been an executive member of the Board of International Organization for Chemical Sciences in Development (IOCD), as well as the Patron of the International Foundation for Science (IFS) in Sweden.
H.R.H. Princess Chulabhorn Mahidol has envisioned the Chulabhorn Graduate Institute to be a professional scientific research institution and Centre of Excellence in the Asia-Pacific region, to assist and expedite the increase in number of efficient quality human resources development in science and technology, in order to serve Thailand and other countries in the region, particularly in the fields urgently needed, with professional competence in transforming their knowledge into tangible, applicable development programs. Thus the Chulabhorn Graduate Institute is established in 2005 by Chulabhorn Foundation to celebrate the auspicious occasion of the 4th Birthday cycle of Professor Dr. Her Royal Highness Princess Chulabhorn. The foundation stone laying ceremony of the new building of Chulabhorn Graduate Institute was organized on the 1st of March, 2007 by Her Royal Highness Princess Chulabhorn. The new 15-floors building consists of an auditorium room, teleconference rooms, class rooms, seminar rooms, research rooms, office rooms, learning centre, and cafeteria.